| | |
| --- | --- |
| New Directions | |

- at c.1890, this is a little later than the earliest opalescent work of LaFarge and Tiffany (below). But Oudinot seems to have come up with the concept of treating the image as a view seen through the actual window - which was later taken up by Tiffany (see his Autumn Landscape, 1902, below). Clicking on Oudinot's window will bring up a larger version. Clicking on various areas of that will bring up details. Admire the perspective, the wood floor, the cloth of honour, and the duckling and chickens.
- LaFarge claimed to have invented many of the techniques made famous by Tiffany. Both worked at Heidt's Glass House in Brooklyn at the beginning of their careers, and LaFarge felt that Tiffany stole his ideas and inventions.
- very nice page with excellent expandable images. Tiffany brought the art of opalescent and textured glass to a high art form. Notice how he lets the colours and qualities of the glass provide the modelling. Notice also how Tiffany has exploited and emphasised the nature of the window. Rather than miraculous mirages which deny the existence of the glass, Tiffany produced scenes and views seen through real or invented mullions and transoms. See especially his famous Oyster Bay and his Autumn Landscape.
Perhaps this approach has something to do with the fact that Tiffany started out as a landscape artist and photographer.
- two figured windows to complement the landscapes at the Met (above). The link above takes you to a Moses and Joshua Window. This next one will take you to a Transfiguration Window. Scroll to the bottom for the expandable link. Then notice here the restriction of paint to faces, and the use of extra layers of clear glass to blur the details of those faces.
- probably a transient image so catch it while you can: an incredibly clear closeup of opalescent and streaky glass set with facetted "gems". From ArtAreas.Com.
- a painter who also worked with Tiffany; this window dates from 1894 and was restored by the Cummings Studio for the Walter Vincent Smith Museum, Massachussetts. Good illustrations including some extraordinary close-ups of the glass itself and the painting technique.
- pre 1918 windows from Hungary in a variety of techniques, many in self-consciously modern, secular styles. Be sure to see the glass mosaic window at the top (the only example of the technique on this site). Tremendously clear scans.
- Gaudi's astounding crypt near Barcelona, begun 1896 and completed 1906-16. I've started you on the stained glass but you really must also see the vaulting, so explore the "inside" link too, and the rest of this site.
- this

seems

to be the replacement to the original site linked above, but it's lost its lovely slideshow. On the other hand, it has some good pics of the glass in context, and that you

should

see!
- an alternative to the link above, but showing fewer coloured windows. The images are static and enlargeable, which allows you to examine the works better. Remember, Wright was practicing just as the first generation of truly abstract artists emerged around 1914 or so. You can see their influence in his designs, although his techniques are as traditional as any Arts and Crafts practitioner.
- glass consultant Julie Sloan has examined many FLW windows, including those in the Robie House. As usual, she has written and illustrated her article beautifully.
- these windows date from around 1945. The techniques remain traditional, but the approach is emphatically modern. Notice the minimal detail which allows him to revel in rich, bright colour, made all the more striking by the thick black leading. Here is his Flower Window at the same church.
- by John Piper, c.1956. Notice the complete abstraction, and the emphasis on pure spectral colour and light. This is a confusing site to navigate, so here is a jump-link direct to the close-up of that window.
- extensive site showing 20th-century windows by various artists in 30 older churches in The Jura, France. Installed from 1950s onwards in contemporary styles, it is tempting to attribute these to war damage. The revamped site is gorgeous.
- I've put this one slightly ahead of itself - it dates to 1964 - because it shows the increasing exploitation of dalle de verre glass while you still remember the Piper window in the link above. This undulating eighty-foot-tall wall of blue glass was made by the Willet Studios, who do not seem to know that it is one of their most artistically interesting works!
Figurative Dalle de Verre Windows
- this technique certainly seems to favour gigantic scale, but it doesn't always have to be abstract. Here are some figurative windows from Artistic Glass, Toronto, and here are some more from Bovard Studio.

—LINKS REPLACED 2nd December 2005
- installed in 1962 in the Synagogue of the Hadassah-Hebrew University Medical Center, there are twelve windows for which Chagall and his assistant developed a new technique of veneering colour onto the glass, to accommodate multiple colour changes on a single piece. Perhaps that is why these images look so oddly opaque. Give the site time to load.
- several European sites claim to have discovered the "only" church windows by Chagall. In this, they are mistaken, as he was prolific. In this link I've collected material and/or links from various sites to feature his church windows for Mainz, Metz, Zurich, Assy and Reims.
- rather a lot of expandable images of these windows by the Rohlf Studio, which apparently date to around 1965-65. Very much of their time, the style is figurative but minimal and tending towards the abstract, the colours are positively moody, and the windows are huge! The Sampson window at the bottom of the first page is particularly impressive.
- by Rodney Winfield. A pretty curiosity here: when the astronauts attended the 1973 dedication, they donated a chunk of lunar rock, which is now set at the centre of the window.
- Schreiter disapproved the overwhelming use of colour and sensuality. This window from 1984 is painted and textual, with a muted palette. But take a look at this one for St Laurentius, Niederkalbach, which is pure pot-metal glass

—LINK FIXED AGAIN 2nd December, 2005

.
- David Hetland's glass for Lutheran establishments is striking for its no-nonsense approach. Through psychedelic colours and a sixties figurative style, he creates vigorous but spartan designs which are at fundamental variance with the richly sensual approach of much Roman Catholic glass. Contrast the work of Ximo Roca, below.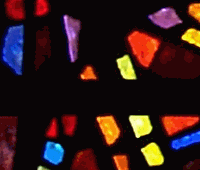 - like a combination of Piper's Coventry and Arlington's St Charles Borromeo, these 1987 windows are enormous mood enhancing screens of pure, bright, rich colour. The artist is Gabriel Loire from Chartres, France, and his technique is dalle de verre.
Alfred Manessier
—LINK REPLACED 2nd December, 2005
- an amazing glass artist whose work is maddeningly ephemeral on the web. Here is the best available image at the moment, from the church of Saint-Sépulcre, Abbeville, France. Just in case that one goes missing, too, here is a rather pale close-up showing his unusual curvilinear forms.
- active from 1980s to present, Ray King does remarkably creative things with stained glass, as you can see by following the stained glass links in the above site. But check the links to his other projects, too, because some of his most interesting work is not windows but glass installations. Needs Flash.
- not clear when this artist started practicing, but this is a recent stained glass sculpture called "Magic Carpet", and the surface is not flat. Click on "index" to see more of his work, and on "gallery" to see work by other stained glass artists. I recommend a look at David Wasley, at least.
The Morning Star Chapel, Camp John Marc
—LINK FIXED AGAIN 2nd December, 2005
- built and dedicated in 1995, this chapel has a wall of amber dalle de verre glass by John Kebrle. This technique became popular in the middle of this century, and favours abstract designs. It consists of thick chunks of roughly chipped glass that catches the light.
Hard Rock Cafe
—NEW LINK 17th March, 2005
- John Kebrle, it turns out, is famous for designing and installing stained glass windows in 44 Hard Rock Cafés. Just for fun, here are (probably transient) links to some of them.

—LINKS UPDATED 3rd December 2005
- these windows were installed in 1996, in a Gothic style abbey church. There was a campaign against them because they were felt to be too bright. The same thing happened to Upjohn, remember? Here is some context for the resistance - the information is in the last two paragraphs. And here is a better view of one of the windows, which were manufactured by Mayer of Munich.

—LINKS FIXED AGAIN 2nd December, 2005
Another project by Mayer of Munich for Brian Clarke in collaboration with Norman Foster and Partners. Looks like float glass to me.

—NEW 2nd December, 2005
- a Spanish firm active only during the last twenty years, creating and restoring glass. Stunning designs using a mixture of traditional and modern techniques and materials. Three pages of expandable images to restore your faith in modern stained glass.
- to suggest that Oddy's work combines Frank Lloyd Wright with Tiffany is to underrate his creativity. Worth picking about this site for some astounding pieces. Be sure to visit the stereograms, and squint! Contrary to popular belief, it is harmless to your eyes.
- an interesting modern use of medieval techniques to create atmosphere while preserving as much light as possible. By Jeff Smith, at times a positive Dulac in stained glass! O moon of my delight, take a look, and be sure to explore the whole site.

—LINKS FIXED 3rd December, 2005
- lovely subtle use of etched flashed glass, I've started you on his "drawn face" but click on the "gallery" link and explore the rest of his work.

—NEW LINK 2nd December, 2005
- still going strong, Mayer now also does float glass painting for secular and religious work (so poke around this site). Very interesting. I especially like Beleschenko's windows for the Ruskin Library (2nd from left), by Richard MacCormac at the University of Lancaster, UK (1998).
- multiple layers of sandblasted, flashed, etched and cut glass all held together by magic! Well, no leading anyway. Extraordinary piece. St Louis, Missouri, 2004. Check it out. Here are some more images with commentary by Tom Krepcio on his stained glass blog, Vitreosity.

—NEW LINK 2nd December, 2005
- check out this site with its links to projects in the newest techniques by many artists. Lovely opening page. Check also this older page, which gives a nice overview of the artists.

—NEW LINK 2nd December, 2005