| | |
| --- | --- |
| Post Industrial Revolution Revivals | |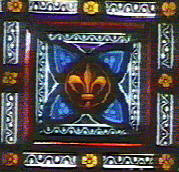 Stained Glass by Pugin
—SITE STILL UNDER MAINTENANCE as at 2nd December, 2005
- Pugin was one of England's great architect-restorers, and he designed Medieval-looking stained glass too. This page contains samples of his work for St Augustine's, Ramsgate, UK, of 1844. It is very slow loading, but the images are rather good. Of course, now that you know what Medieval glass looks like, this stuff probably wouldn't fool you - the designs are inspired as much as anything by Medieval floor tiles, which he also knew and designed.
Probably worth waiting for the above site to come back. Meanwhile, here are some of Pugin's windows in Buckinghamshire

—NEW LINK 2nd December, 2005
- Richard Upjohn was an architect, but in addition to designing this church, he also designed the windows to go into it, 1844-5. Distant view, pity, but note the very rich colours achieved through the use of coloured enamel paint over the top of the pot-metal glass. Do you like the effect? The commissioners did not. Finding it garishly bright, they would not accept the window until he had muted its effect with extra layers of thick clear glass! Style is sort of Medieval.
- faded pics, sadly, but it is important to see this early example of revivalism. These windows were produced by the Sèvres Studios in France (more famous for exquisite porcelain) in 1845. The window frames may be Gothic, but what style is used for the images? And what do you make of Luke's Bull and Mark's Lion?? Here are a couple of clearer details.
- designed by Edward Burne-Jones and produced by William Morris in 1873. These artists were founder members of the Pre-Raphaelite Brotherhood (who sought to revive artististic styles and techniques from before the time of Raphael). They were creative artists, not restorers, so their windows seem like an odd hybrid of vaguely Classical-Medieval-Early Renaissance styles blended with Victorian piety. Notice how dark the colours are - remember how the industrial revolution had blackened buildings and their windows, so that people assumed that ancient art had been dark.
- Morris went on to found the Arts and Crafts Movement, an attempt to reintroduce traditional handworking methods and designs into manufacturing. His firm still exists today, and maintains a gallery of archival materials. Here are several nice examples of stained glass by William Morris.
- oh what a pity. Someone thought it would be a good idea to update this site. So we've lost the wonderful big images of this amazing repository of windows by famous artists such as Burne-Jones, LaFarge, Tiffany, and others. Now we can have little automated slide shows instead.
Updated site by this company that was founded in 1847 to revive "Medieval cathedral building trades". They do a lot of restoration work, as well as executing projects for contemporary artists. This is one of their 19th century examples, which shows that they also replaced the glass parts of Bernini's Glory Window in St Peter's, Rome.

—LINK FIXED 2nd December, 2005
- At St John's Episcopal again, another English firm active in the 19th and early 20th century - and still going strong today. This one is famous for it's "quasi Renaissance" style. The colours are so rich you can almost taste them! And the painted detail is exquisite. Be sure to scroll down and find the link to the bigger image! This window dates to 1911.
- Another prominent English firm. At St John's, Ainsdale (UK), the webmaster tells me that Powell and Sons signed the "Queen Charlotte", "Mother and Holy Child", and "Sanctus" windows, and may also have made the "Ascension" window. These and more are shown at this site. Nice pics of typical, traditional church windows of the first half of the 20th century.
- this is their history of stained glass page, which works very well just here because you now know what Medieval stained glass looks like, and you've also seen the work of most of the 19th and 20th century craftsmen they mention. Now see how they all come together! Then visit their collection with its superb enlargements.
- this much expanded site has superlative photos of Medievalizing 19th century glass, plus Tiffany, LaFarge and more. Rare to find the "glassness" preserved in photos on the web. Each pic opens in a new window.
- in addition to reviving styles, and mixing styles, stained glass artists also made direct copies, or near copies, of famous paintings from the Renaissance. Take a look at these three examples.
- it is difficult to know how to classify early LaFarge. He had a strongly Renaissance-oriented approach, but you can already see the opalescent glass that was to change the nature of stained glass so profoundly. Not very nice pics, sadly, but there are NO good images of LaFarge's work that I have found yet. These date to 1892.
- here is an interesting article on restoring those LaFarge windows in the link above. Little pics in the text, but click on them for enlargments. And here is a link by the same glass restorer to more LaFarge windows, some nice pics among them.
- also revived in the nineteenth century was glass painting. Reynolds was president of the Royal Academy of Art, and his mission in life was to restore greatness to British art by inculcating Renaissance values. He designed these windows according to those principles, and they were executed by Thomas Jervais. Notice the exaggerated oblong panes, and the classicising garb and contrapposto of these more than Renaissance ladies. Then click to enlarge the image and see the traces of anachronous Gothic canopies at the top.
- ten rather attractive windows dating to 1820 by Pere A. Bergethon of the Paterson, NJ, branch of the Payne Studios. Beware the somewhat confused text on this site (the windows are painted, not "stained", and the grisaille backgrounds include silver-stain, not "gold stain"), but the pics are ok. For speed, note that the clearest scans are of windows 9 and 10.
- here is an unidentified American example from the Census of Stained Glass in America. As the authors say elsewhere, note that the glass of this period not only revived styles and designs, but also established and fostered current social values such as "dutiful children" and "solicitous mothers".
- more painted glass, showing the state seals of 1889 through an unusual technique invented by the maker of these windows, John Mallon. The seal images were "burned in", painted, and then surrounded with traditional stained glass. Note: the images have been over enlarged. To see the very clear originals, use the "view image" option on your mouse. Well worth it.